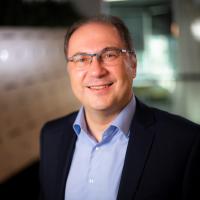 Dr Zoran Bolevich
Dr Zoran Bolevich is Chief Executive of eHealth NSW and Chief Information Officer of NSW Health. With a background in medicine and business administration, Dr Bolevich has worked in a number of senior health system management, health IT and data analytics leadership roles in Australia and New Zealand.
Leading a team of more than 1,250 staff, Dr Bolevich is focusing on implementing the eHealth Strategy for NSW Health, streamlining governance of eHealth NSW's key programs and activities, and developing a highly effective, customer-focused Health IT organisation. Dr Bolevich is passionate about improving the health system through meaningful and effective use of digital technologies, data analytics, research and innovation in partnership with patients, clinicians, health organisations, government and industry partners.
Dr Bolevich holds a medical degree, a Master's of Business Administration and is a Fellow of the Royal Australasian College of Medical Administrators.