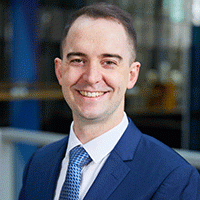 Dr Rowan Ellis
MBBS, BSc (Human Bio, Sci Coms), GradCertMed(CritCare), CHIA
Dr Rowan Ellis is an Anaesthetic Registrar from Western Australia. Rowan started his medical career as an Intern at Fiona Stanley Hospital in 2015 and has since worked across the WA metropolitan area. He is a passionate advocate of the clinical user experience, and has worked closely on a variety of projects to make improvements to key clinical applications.
Previously as a Clinical Reference Lead and now as a Digital Health Adviser, Rowan has been working with the Australian Digital Health Agency since 2018. He has contributed on a diverse range of areas including medication prescribing and safety, goals of care documentation, and user interface design.
Rowan is a Board Member for Health Support Services, the shared services organisation providing ICT, Payroll, Procurement and other services to the WA health system.
Rowan is contributing to development of digital health career pathways for clinicians as a member of the Australian Institute of Digital Health's Expert Advisory Group on Advancing the Digital Health Workforce.