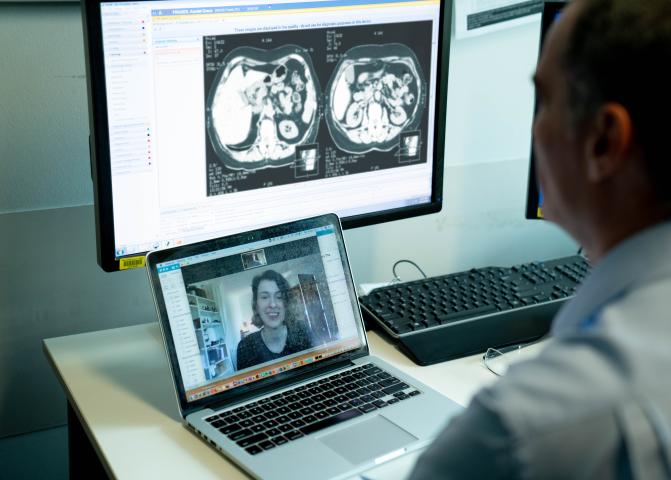 Cyber security
Keep your health information private and secure.
Why is cyber security important?
Did you know that your health information can be even more attractive to cyber criminals than your financial details?
You can take a few simple steps to stay private and safe when you're online. These steps include using passwords that are hard to crack, keeping your software up to date and staying aware that your online activity can leave a footprint.
How is your health information kept safe?
Our Cyber Security team works with the healthcare sector to help identify ways to keep their information secure.
To keep Australia ahead of possible security threats, our Cyber Security team provides information and guidance for both individuals and the healthcare sector.
Learn more about being secure online
How to stay private and secure online
Digital footprint
As you move around the internet or use your digital devices, you leave behind a trail of information. This is called your digital footprint. It includes browsing, paying online, and what you share on social media.
It's possible to manage your digital footprint. You can do this by finding out what information exists about you online. This means you can use the Internet more safely.
Download and follow these simple steps to control your digital footprint (PDF, 553.38 KB)
Think before you post

Find your digital footprint

Decide what to update or remove

Check your privacy settings

Follow the password advice

Clear your browsing history
Use upper, lower case, numbers and special characters

Passphrases are harder to crack

Don't use well-known or easy to guess passwords

Password managers can store multiple passwords

Multi-factor authentication uses more than just a password
My Health Record
My Health Record is protected by a firewall, secure sign in process, audit logging and Australian Government legislation. You can also help to maintain the security on your account.
Strong passwords, up-to-date software, and checking privacy settings on your accounts and devices are all good ways to keep your information safe. And if you're worried about the information others might be able to see on My Health Record, you can set your own privacy and access controls there too.
Use a strong passphrase and secret question

Review your My Health Record access log

Always manually enter your sign in details

Don't click on links in emails to sign in

Set strong privacy settings on your accounts and devices

Turn on automatic software updates