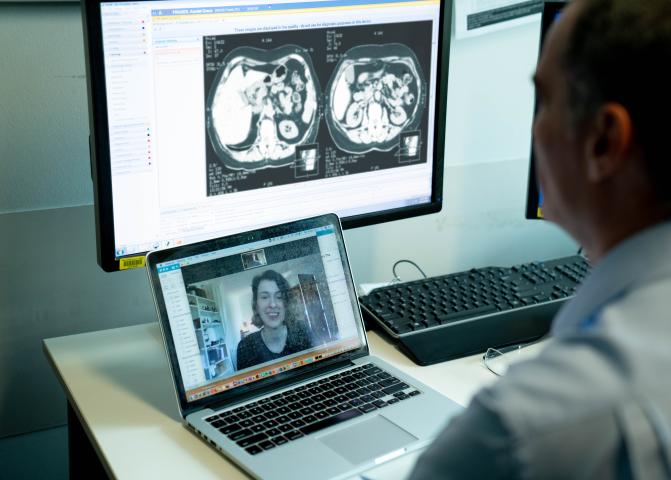 Telehealth
As the world adjusts to the 'new normal', more healthcare providers are turning to technology. Now all Australians, whether it's those living in rural or regional areas, a city or country town, can get a telehealth consultation.
Between 13 March 2020 and 31 July 2022, 118.2 million telehealth services have been delivered to 18 million patients, and more than 95,000 practitioners have now used telehealth services

– August 2022
What is telehealth?
Telehealth consultations provide patients with a consultation through video or telephone instead of face to face.
It uses the transmission of images, voice and data between two or more sites using telecommunications to provide health services, such as clinical advice, consultation, education, and training services. There are three ways telehealth can be used:  
Remote patient monitoring – monitoring patient health and clinical information at a distance.
Store-and-forward – transmission of images or information from one healthcare provider to another.
Consultations – connection between a patient and one or more healthcare providers through an audio or video-enabled device. 
Most practices in Australia tend to now use telehealth in consultations, particularly since the start of the COVID-19 pandemic. 
Why use telehealth?
Healthcare when patients can't leave home
If your patients are unwell or need to self-isolate, they can still attend a consultation via phone or video call - it's not just convenient, it can also reduce the spread of illness.
Tending to patients in rural and remote regions
Occasionally, Australians living in rural and remote areas need to travel far to see their healthcare provider. Telehealth can allow patients to access vital medical services that may have been previously difficult to manage.
Telehealth is an additional aid to improving patient outcomes and can be used in conjunction with face-to-face care.
What are the benefits?
Healthcare provider benefits
Reduced travel, expense and time away from home
Higher patient reach, due to fewer location and travel barriers
Reduced patient 'no-shows'
Real-time assistance with difficult cases and emergencies
Improved allocation of consulting rooms within a practice where there is limited availability
Opportunity for staff to work remotely
For professional development, such as informal knowledge transfer through increased collaboration, networking and case conferencing opportunities.
Patient benefits
Improved access to healthcare, i.e. greater equity
Reduced travel, expense and time away from home
Reduced waiting times supporting faster diagnosis and appropriate treatment
Improved continuity and quality of care
Local treatment from a known healthcare provider, under specialist supervision
Increased opportunity to contact their healthcare provider between face-to-face consults.
Practice manager benefits
Service delivery growth opportunities
Improved clinical workflows and increased practice efficiency, e.g. time savings
More cost-effective delivery of service through higher patient flow and time savings
Improved coordination of care and service integration.
From 1 January 2022, patient access to telehealth services will be supported by ongoing Medicare Benefits Schedule (MBS) arrangements.
Are there any specific privacy requirements?
The general privacy and information security requirements of the Office of the Australian Information Commissioner for remote consultations relating to confidentiality, patient consent and security of patient information and medical records, are the same as the requirements for face-to-face consultations. 
Consider reading the Privacy Checklist for Telehealth Services provided by the Australian Department of Health for additional guidance, and consult your information and technology services provider for advice on meeting these requirements.