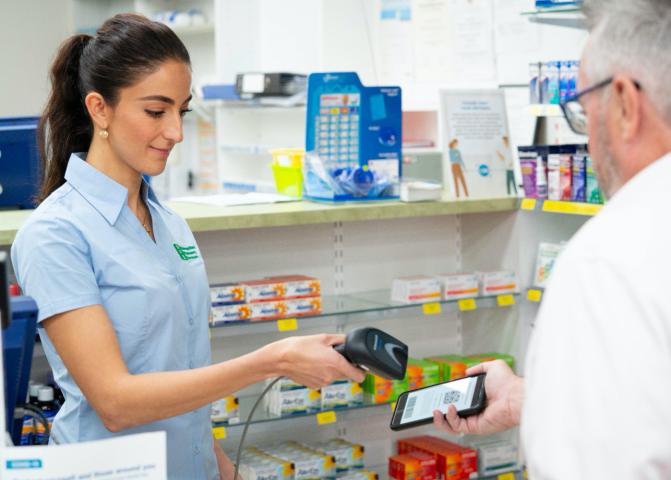 Electronic prescribing
For dispensers
Over 160 million electronic prescriptions have been issued since May 2020, by more than 66,000 prescribers - GPs and nurse practitioners.  

-  August 2023
What is electronic prescribing?
Electronic prescribing is an alternative to paper prescriptions, providing patients with convenient access to their medicines, and improving safety by reducing the risk of transcription errors. Electronic prescriptions are not mandatory and patients will have a choice to receive either an electronic or a paper prescription (but not both).
Electronic prescriptions support secure and efficient access to medicine supply for Australians – in person via their doctor or via a telehealth consultation – sent directly to the patient's mobile phone number or email. Electronic prescriptions are available nationally as a 'token' (SMS or email) or can be added to an Active Script List (ASL). 
To dispense electronic prescriptions, you will need the capability built into your dispensing software system. Check if your clinical information system is conformant.
Both electronic and paper prescriptions will need to comply with the relevant Commonwealth and State and Territory legislation requirements.
What are the benefits?
Benefits of electronic prescribing extend to the patient, healthcare provider and, more broadly, the healthcare system. These include:
convenience and choice for patients
supplements delivery of telehealth services to ensure continuity of patient care
provides an opportunity to protect community members and healthcare providers from exposure to infectious diseases (such as COVID-19)
maintains patient privacy and integrity of personal information through token encryptions and data protection measures 
reduces the risk of lost paper prescriptions 
reduces administrative burden for healthcare providers and organisations.
How electronic prescriptions work
Using a SMS or email 'token' to dispense an electronic prescription
Token
A patient requires a prescription and has chosen to receive it as an electronic prescription.
The prescriber issues the patient with an electronic prescription via SMS or email.
The patient takes or shares their electronic prescription token with their preferred pharmacy. 
The pharmacy scans the token to view the electronic prescription and dispenses the medicine.
If the prescription has repeats, then a new token is sent to the patient via SMS or email by the pharmacy.
The patient will always have the choice to get their next repeat dispensed at a different pharmacy. All they'll need to do is present the new token when more medicine is needed.
What is an Active Script List (ASL)?
An Active Script List (ASL) is a token management solution that contains a consolidated list of a patient's active prescriptions. Patients will need to register for an ASL by visiting a pharmacy that is enabled to offer this service. 
What are the benefits of ASL?
patients no longer need to keep track of the SMS or email tokens,  this information will now be stored in one consolidated list. 
It overcomes the issue of misplacing token/s and the need for them to be reissued, and
it may be more convenient for patients who take multiple medicines.
How ASL works
Instead of presenting a token, patients will provide confirmation of their identity and request the pharmacy dispense medicines from their ASL.
Initially, a patient will need to attend their preferred pharmacy to register for an ASL. They may need to provide 100 points of identification (PDF, 83.08 KB)and accept the terms and conditions, agreeing that all prescriptions will go to their ASL unless they withdraw their consent.
After the set-up is complete, an ASL can be accessed by:
The patient visits their healthcare professional, and a prescription is issued which will be automatically added to the ASL, unless the patient requests otherwise. The patient does not need a token but can request to receive one.
Next time the patient visits their nominated pharmacy, the scripts can be accessed directly from the ASL. 
If there are repeats, they will be automatically added to the ASL, unless the patient chooses to have them sent as a token via SMS or email. 
Check that you are using the most up to date version of your software with ASL functionality enabled.
 
State and territory regulations
The same regulations for prescribing and supplying medicines exist for both paper and electronic prescriptions. Clinicians are required to adhere to the National Health Act 1953 and relevant state or territory regulations when prescribing and supplying medicines using an electronic prescription. This is particularly important for controlled medicines. Please contact your relevant jurisdiction for more information.
Education and Training
eLearning modules
Free CPD accredited online training can assist with providing an introduction to what an electronic prescription is, how it is prescribed and dispensed, the benefit of Active Script List, and the policy requirements and legislation that underpin the process.
Find out about:
Webinars
Register for a free webinar for healthcare providers to learn more about electronic prescribing in your practice, as well as other digital health topics.