Building a rich data repository of accurate information
Published 9 January 2018
My Health Record Expansion Programme Deputy Chair Dr Steve Hambleton discusses My Health Record.
Now that I have the ability to easily and securely share information on the My Health Record, my understanding of the purpose of my notes and in particular my health summary has changed from an aide memoire for myself to a collection of information that can benefit my patient as they touch other parts of the health system. An up-to-date shared health summary can be rapidly accessed by the other healthcare practitioners my patients encounter to help them make much more informed decisions to maximise benefits and minimise misadventure.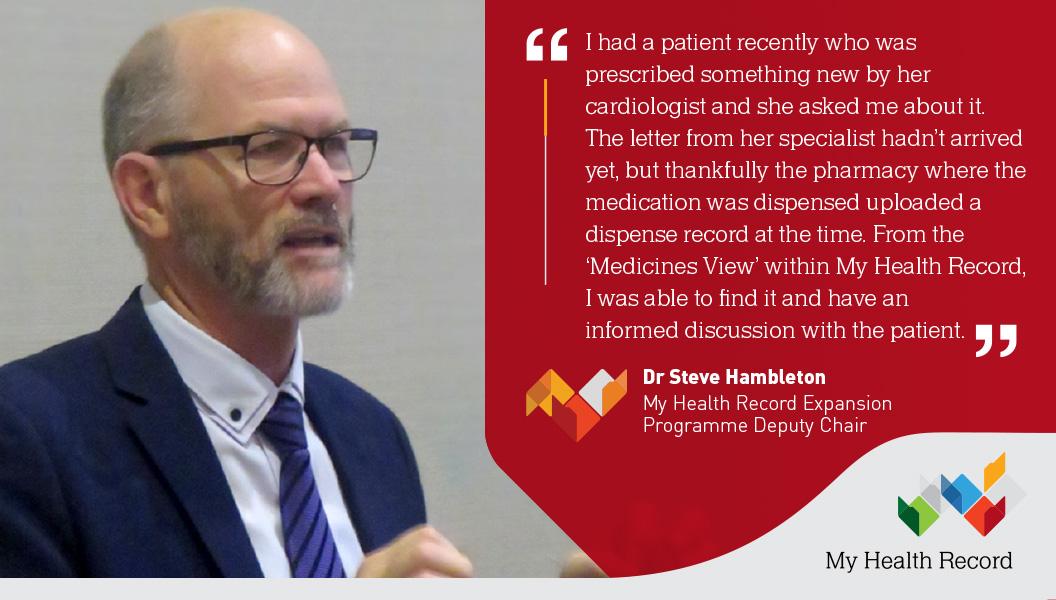 A key recent enhancement to the My Health Record is the Medicines View. The Agency has used the smarts of the computer systems to collect medicines information from many different places within the My Health Record and display it all on a single page. I can see what has been dispensed and what has been prescribed by other doctors with links to the original documents. Allergies from all sources are there, patient recorded information is there as well as information from the discharge summary if the patient has recently spent time in hospital.
For a number of patients this has already decreased my search time for information that has not yet arrived. The My Health Record is particularly beneficial when I get information that the patient would like me to have, but for some reason or another, hasn't arranged for it to be sent directly to me. While it is true that much information does come to me as the patient's GP directly but we all know that a lot doesn't.
I had a patient recently who was prescribed something new by her cardiologist and asked me about it. The letter had not yet arrived but thankfully the pharmacy where the medication was dispensed uploaded the dispense record and from the Medicines View I was able to find it – update their record and have an informed discussion with the patient.
We still have a way to go to make it even easier to use for GPs, our patients and for their carers and to provide more and more useful information but there have been some real advances in the right direction.
For example, Australia's largest pathology laboratories have agreed to connect to My Health Record and patients will soon be able to have their pathology reports uploaded to their My Health Record. My patients are constantly asking for copies for their files. Their file will soon be in the palm of their hands.
Also, more than 95 per cent of Australian diagnostic imaging practices will soon be able to connect to the My Health Record system. Sixteen software companies are finalising service agreements with the Australian Digital Health Agency.
By the end of 2018 diagnostic imaging centres will be able to access software that connects with My Health Record and to upload reports for their patients.
I hope that soon, finding out who performed the investigation, where and what the result was, will be a simple matter.
If you look on the My Health Record website there are also apps available that, with the patient's permission, can help present the patient's data in different ways. There are apps available that can actually help patients to view their own data and one even allows the patient to print out that data then and there from their smart phone.
My Health Record was never meant to be the "ultimate app." That will be for the innovators to build. It is meant to be rich data repository of accurate information about the patient from multiple sources that can be securely accessed for their benefit.
It will become more and more valuable to health care providers and more importantly to our patients as more data sources connect and contribute to our patients' My Health Record.