Digital engagement for chronically ill patients
Published 20 December 2018
Large-scale trial of new model of care aims to engage and empower chronically ill patients through digital technologies.
The $8.5 million Digital Health Test Beds program will trial new approaches in chronic health, palliative care, and post hospital support. Australian patients will benefit from 15 new test beds that will enable them to use information from their My Health Record to improve the delivery of their healthcare.
One of the test beds is being led by Precedence Health Care and will empower patients with chronic illness to better manage their own care using the MediTracker app and patient portal to access My Health Record, connect with GPs and care teams, and share information and self-patient data. The app links directly to patients' GP medical records and to My Health Record, as well as digital monitoring devices and wearables used by patients, and then shares this data with patients and their care teams.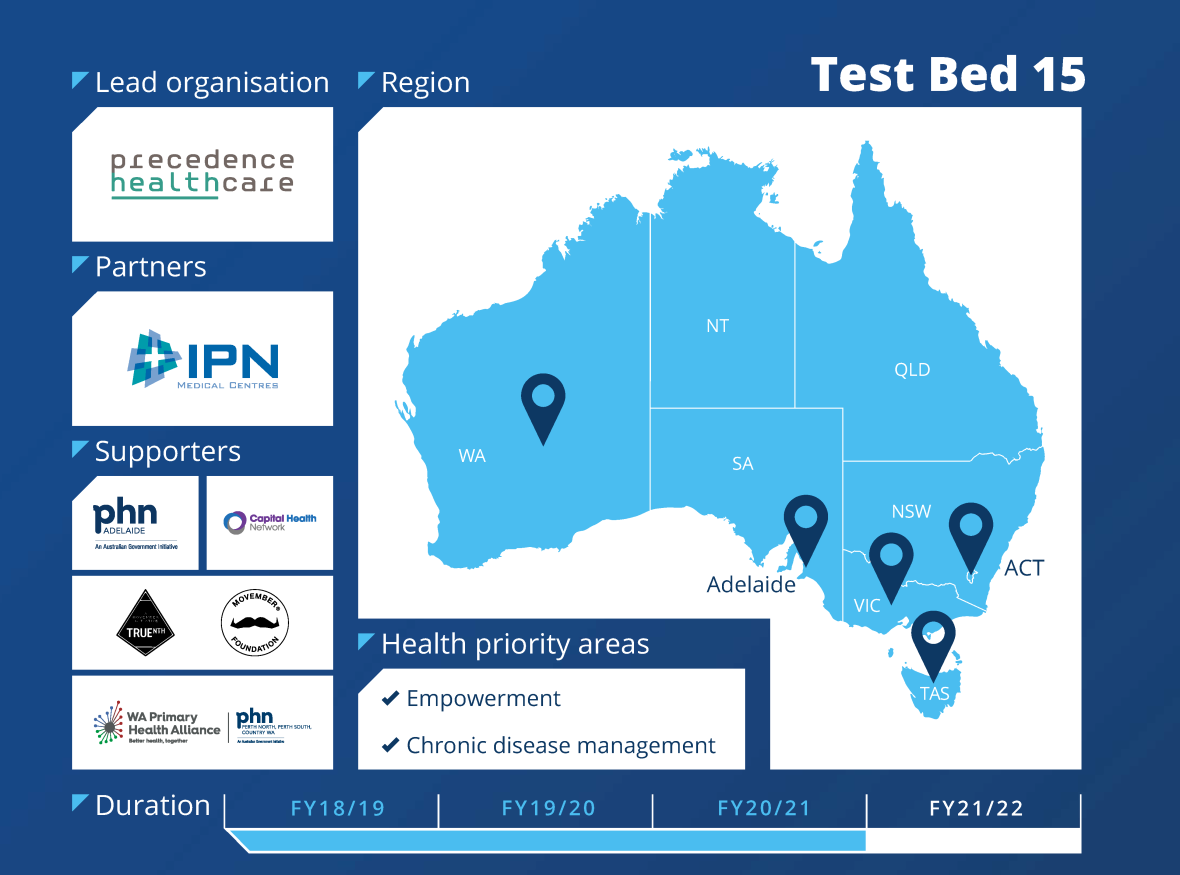 This test bed is one of 15 projects to test new models of care across Australia
Precedence will work with Primary Health Networks across five states and territories (Western Australia, South Australia, Victoria, Tasmania, and the ACT) to recruit over 10,000 chronically ill patients into the trial. IPN Medical Centres will provide free access to MediTracker for all their patients, and Movember will use MediTracker as part of their integrated care initiatives supporting men with prostate cancer.
The project will also include patients involved in the Commonwealth Department of Health's Health Care Homes trial, for which Precedence is already supplying the core risk stratification and patient assessment technology.
Engaging and empowering
A key recommendation of the 2015 Primary Health Care Advisory Group (PHCAG) report Better Outcomes for people with Chronic and Complex Health Conditions is that patient engagement is vital to better management of chronic illness. Patients need to be able to keep track of their own health information, including both clinical and self-monitored data. They need to understand their plan of care and know what everyone on their care team is doing.
In the model of care for the Precedence test bed, the patient is the holder of their health information. They can store this information on their mobile phone and in the secure private cloud supporting the MediTracker app. The MediTracker app also enables patients to connect to the vast ecosystem of digital devices and wearables and to share this data with their selected care providers and family.
The patient controls who has access and what data they share. The GP remains the trusted primary care provider and has access to the same information, ensuring that the right health data is shared with the right people.
Behind the scenes
The MediTracker app is powered by cdmNet, a coordinated care digital health platform, which enables the app to connect patients to their primary GP and their selected team of care providers. This app enables patients to collaborate with their care team and actively participate in the full cycle of patient-centred care, depicted below.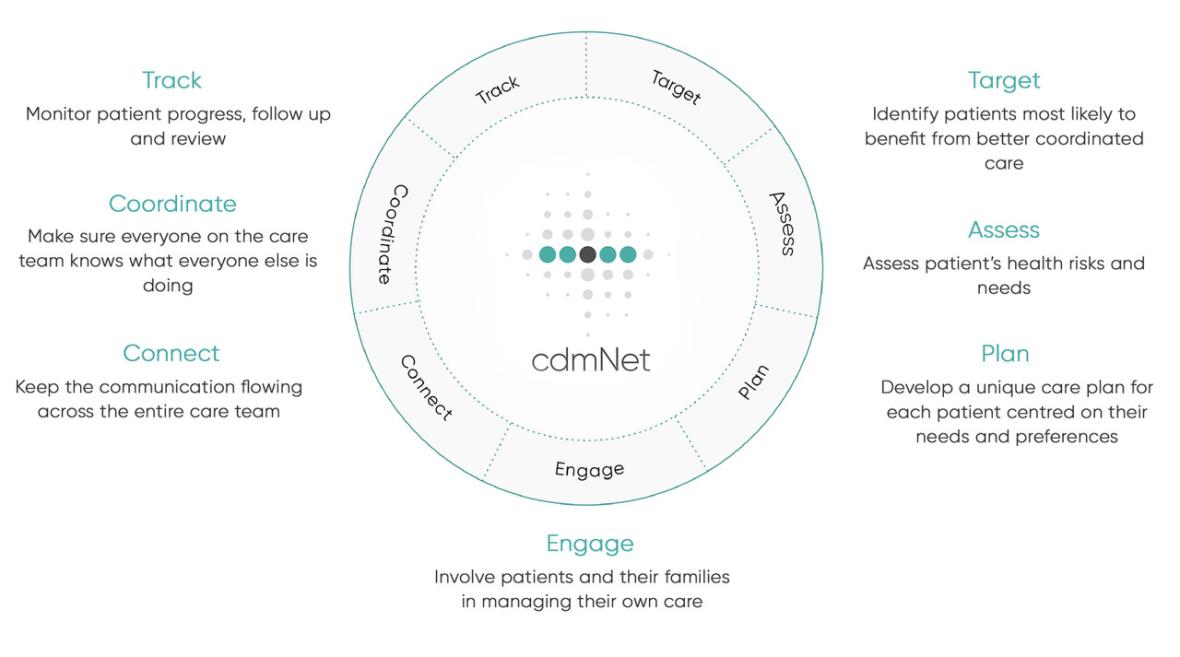 cdmNet's functionality closely aligns with the needs of chronically ill patients (compare to p.15 of the 2015 PHCAG report)
The cdmNet platform maintains and shares the patient health record, including clinical history, medications, measurements, and pathology data, as well as care plans and other collaboration data, such as progress notes across the care team. It also provides the connectivity infrastructure for the care team, links to GP clinical systems, and synchronises automatically to ensure the patient record is always up to date.
Better outcomes for all, not just the patient
By integrating patient self-management with all the elements of patient-centred team care, the MediTracker test bed should help reduce hospitalisations, reduce preventable adverse events, and lower duplication of services and tests.