Pharmacy goes digital: new guidelines, events and more
Published 24 April 2018
New Pharmaceutical Society of Australia guidelines, pharmacist Chris Braithwaite talks My Health Record, and TerryWhite Chemmart's three-day masterclass.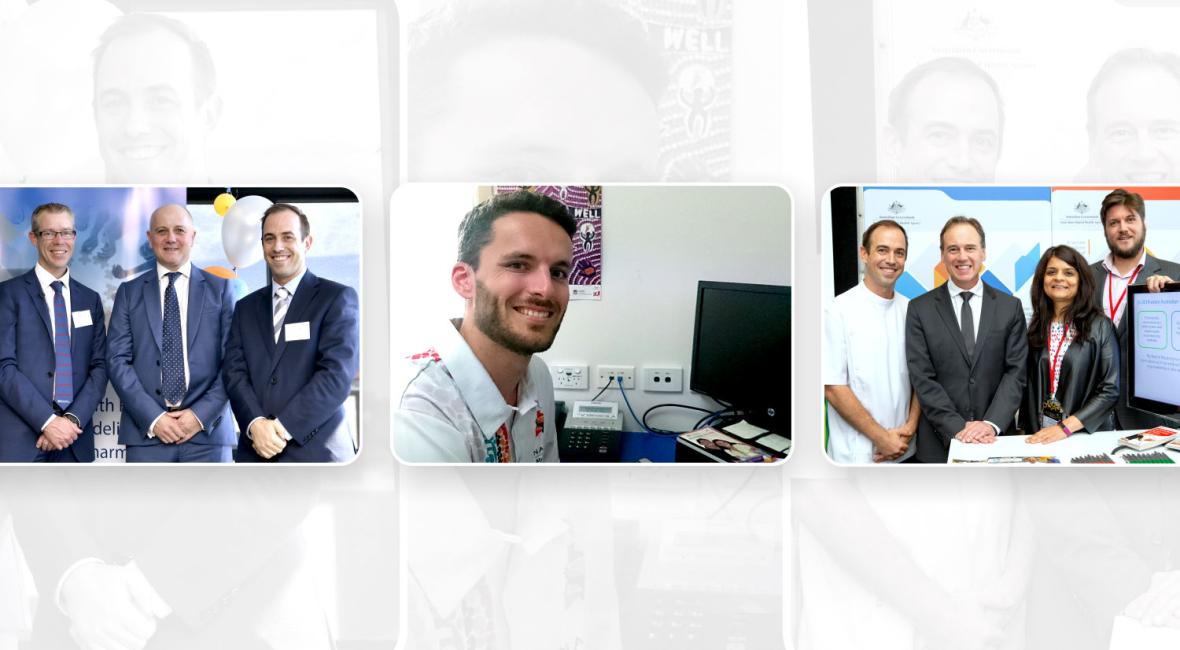 New My Health Record guidelines launched for pharmacists
Pharmaceutical Society of Australia (PSA) launched new guidelines today for pharmacists to promote meaningful clinical use of the My Health Record system to enhance patient-centred care.
PSA National President Dr Shane Jackson, Agency CEO Tim Kelsey, and pharmacist Chris Campbell at the PSA guidelines launch
The new guidelines will help increase the number of pharmacists using My Health Record, a digital system that enables healthcare providers to share secure health data and improve the safety and quality of patient care.
My Health Record enables important health information including allergies, medical conditions, treatments, medicines, and scan reports to be accessed through one system. The benefits include reduced hospital admissions, reduced duplication of tests, better coordination of care for people with chronic and complex conditions, and better informed treatment decisions.
PSA National President Dr Shane Jackson said that the guidelines will further enable the digital capability of pharmacists is a game changer for pharmacists' contribution to enhancing medication safety and ensuring quality use of medicines.
"Having access to information will allow pharmacists to deliver more effective and efficient care," said Dr Jackson, who is the Chair of the Project Advisory Group.
"Pharmacists have a professional responsibility to review their practice and where necessary, build on their digital health competency, to integrate use of the My Health Record system into patient care.
"PSA is delighted to offer these professional guidelines for pharmacy practice as well as implementation tools for digital health."
Queensland pharmacist, and Chair of the Project Working Group, Chris Campbell said the ease of access to information by using My Health Record was going to make the biggest difference for pharmacists to providing care.
"The My Health Record integration helps to make key clinical decisions possible at the point of professional interaction such as dispensing and medication review.
"Until now, pharmacists have been dispensing, counselling, providing advice, and conducting medication reconciliation partially blindfolded," Mr Campbell said.
"My Health Record helps to lift the veil and our contributions will further cement pharmacists as an integral member of the primary health care team."
Australian Digital Health Agency CEO Tim Kelsey said the guidelines were an essential support for pharmacists in the transition to embedding My Health Record as a normal part of daily pharmacy practice.
"PSA, and in particular Dr Shane Jackson's strong leadership for My Health Record is much appreciated by the Agency as it gears up for the expansion of My Health Record to every Australian unless they choose not to have one, later this year," Mr Kelsey said.
"The ability for pharmacists to contribute patient health information to My Health Record is an integral part of the My Health Record system. In My Health Record, pharmacists have a platform to enhance the provision of patient-centred care though access to key patient health information and by contributing valuable information related to care they have provided."
All Australians will be provided with a My Health Record by the end of 2018, unless they choose not to have one.
A platform for empowerment
Pharmacist Chris Braithwaite has worked in a variety of Aboriginal health locations since graduating in 2012, including at Katherine in the Northern Territory, Mount Isa and Cape York in Queensland. He has been working at Galambila Aboriginal Health Service at Coffs Harbour in northern NSW – in Gumbaynggirr country – since October 2016 and was attracted by the opportunity to take on the emerging role as a practice pharmacist working closely with GPs, Aboriginal Health Workers, nurses and other allied health professionals. Chris finds working with Aboriginal people to be a unique and rewarding use of his skills.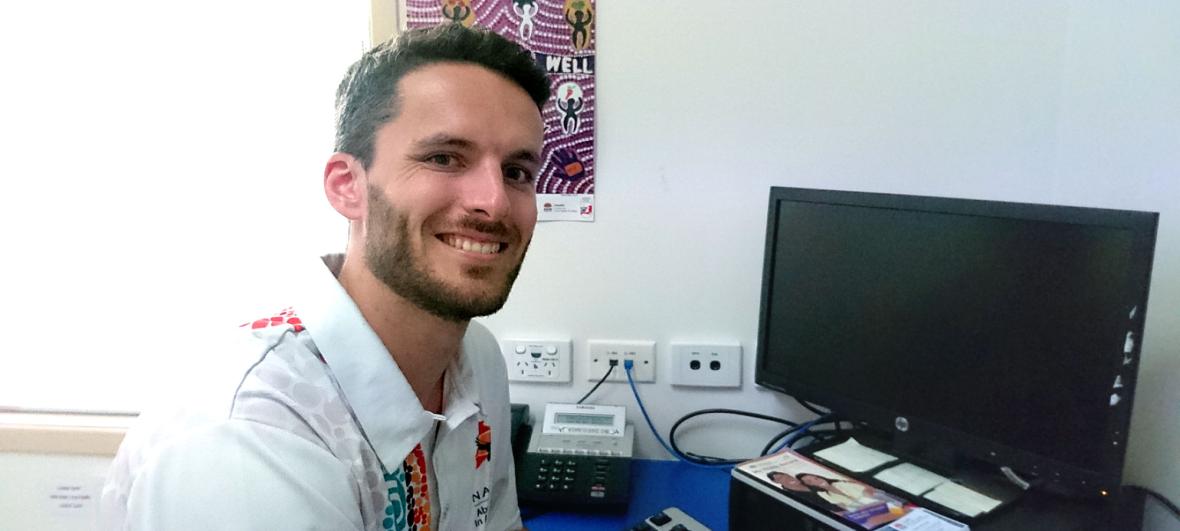 Pharmacist Chris Braithwaite looks forward to using My Health record in his daily practice.
My Health Record is particularly exciting for pharmacists as we have, for too long operated in an information poor silo and this will be a step in the right direction to close the loop and increase our capacity to deliver targeted care.
For patients, it will provide a platform for empowerment regarding their health and an accessible record for those Australian's who find health literacy a challenge. This is really a priceless advance for the health system.
I have always been attracted by the concept behind My Health Record, but what's really convincing are the case studies and examples I have heard where pharmacists and other health professionals have delivered more effective and efficient care. When these stories come to light, you can always recall a situation where having access to My Health Record would have made an enormous impact on the way you delivered care.
To me, this was especially relevant in Cape York, where the Aboriginal and Torres Strait Islander community is particularly transient. My Health Record will be invaluable in these situations.
At Galambila we aim to provide a culturally appropriate service to our local Aboriginal community. We have a range of clinics and services aiming to close the gap and keep our community healthy and living longer.
Galambila has six GPs and allied health services such as podiatry and has been active in setting up My Health Records for patients and in uploading patient summaries.
My role is to provide linkages with community pharmacy, as well as actively enhancing our quality use of medication at a clinic level. I play an important role in the care of our clients as they transition through care settings by ensuring correct and appropriate medication usage.
It is an innovative role that adds value to the primary health care outcomes of our clients.
In my work at Galambila I find the dispensing record and medicines view particularly useful. When performing a Home Medicines Review (HMR), this helps me assess dispensing intervals and gives an indication of medication adherence. A phone call to the community pharmacist is still useful and important for their insights given the regularity of contact with patients. However this saves a major aspect of the conversation as well as unnecessary paperwork.
I also find discharge summaries particularly useful in ensuring the patient's transition back into community is smooth. This is especially pertinent when they are discharged from a non local hospital and it isn't sent directly to us.
A simple, but powerful example was when an unknown patient presented to see the GP. The patient did not have strong recollection about their previous treatment. They were asking for prescriptions but couldn't remember what it was they took, nor could they name a recent community pharmacy (only the town). We were unable to get in contact with their previous GP.
In the past, it would have taken me 30 minutes to obtain the information I need. However, they had an active My Health Record and I was able to quickly access this with the GP and we were able to provide the care the patient needed immediately.
I believe the potential for My Health Record is incredible, especially for patient safety in terms of medication management. As time goes on and the conformity with clinical software increases, having someone's renal function at your fingertips when dispensing medicines such as rivaroxaban, for example will revolutionise the dispensing process in the community.
In the future I imagine it will be part of my daily practice and widely accepted by the public and health professionals as an incredibly useful tool for more effective and efficient care.
TerryWhite Chemmart pharmacists skill up on My Health Record
Over 400 pharmacists gathered in Melbourne for a three-day My Health Record Masterclass launched by the Minister for Health, the Hon. Greg Hunt MP.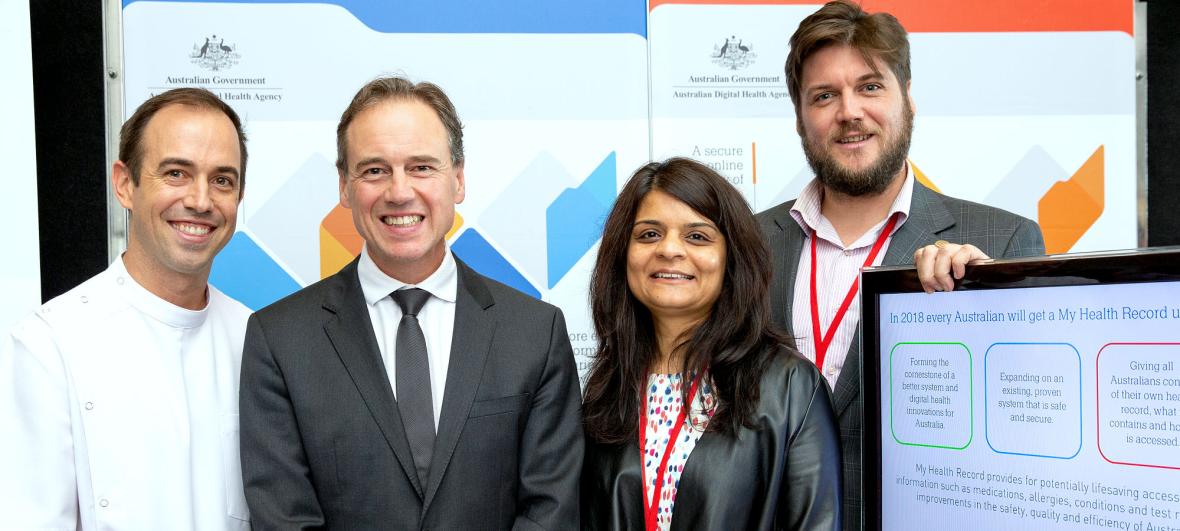 L to R: Chris Campbell, TWCM Professional Practice Manager; Health Minister Greg Hunt MP; Vandana Chandnani, Agency PHN Education and Support Lead; Shane Lowe, Agency PHN education and Support Lead
TerryWhite Chemmart (TWCM) – one of the largest retail pharmacy chains in Australia – ran a three-day My Health Record Masterclass in Melbourne, launched by the Minister for Health, the Hon. Greg Hunt MP. Mr Hunt discussed the pivotal role that the TWCM group will play in Australia's National Digital Health Strategy, in particular My Health Record.
The event also saw Dr Shane Jackson, the President of the Pharmaceutical Society of Australia, discuss the benefits of My Health Record for pharmacists. He highlighted the Medicines View, which consolidates medicines information from multiple sources, and added "My Health Record gives pharmacists access to information that they may not have received directly, such as Shared Health Summaries, Discharge Summaries, allergies information, adverse reactions, non-prescription medicines, immunisation records, and child health check summaries."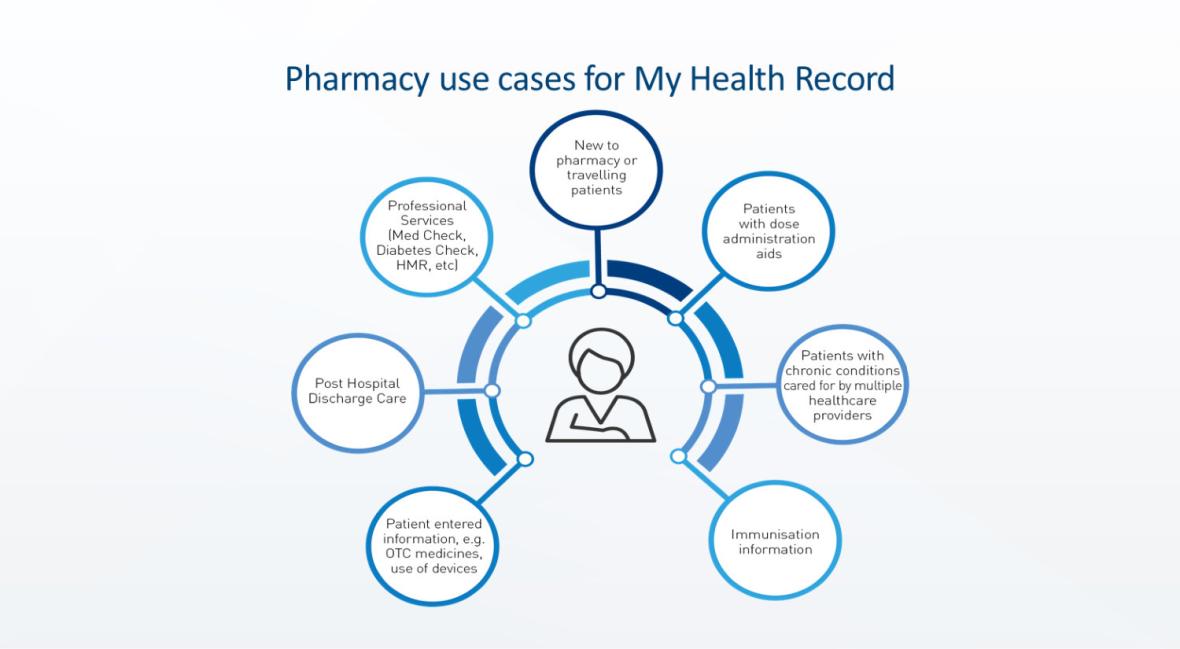 My Health Record has many benefits for pharmacists
The attendees were highly engaged and very appreciative. Fifty questions altogether were lodged for follow-up – an average of roughly one question for every eight attendees. This is a remarkable figure for an event like this. One person commented: "Great session! So exciting to see where the future is going. Loved the panel format."