Safe use of apps for My Health Record
Published 16 September 2019
As the use of mobile devices increases, there has been a similar increase in the proliferation of applications (apps) for the mobile device market.
Mobile device apps provide a convenient way to transact and access personal information from any location or while on the move. Like personal computers, mobile devices can be affected by malicious software designed to compromise your information.
Therefore, it is important to make sure any app you install on your mobile devices, including apps that connect to My Health Record, are authentic and can be trusted to do what they claim.
The way we interact with our mobile devices sometimes means we make quick decisions which can significantly increase the chance of compromising personal information and privacy.
Safe mobile app practices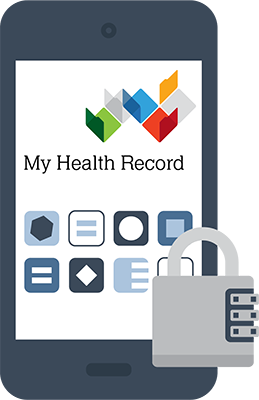 When using mobile apps, it is important to adopt safe practices to protect your mobile devices from cyber attack:
Use official app stores as they have an app review process where developers are required to meet guidelines covering security, safety, performance, design and legal requirements prior to the app being approved for their site. This verification process helps to reduce the risk of the app containing malware, ransomware or adware. If you have an Android device, only download apps from Google Play™. For Apple® iOS devices, apps should be downloaded from the Apple® AppStore.

If you would like to use a mobile device app to connect to My Health Record, check that the app is listed here: https://www.myhealthrecord.gov.au/for-you-your-family/howtos/view-your-record-using-app before installing it. Apps that connect to My Health Record are only available to download from Apple® (the App Store) or Google (Google Play).

Avoid apps from other websites as there is a higher chance the apps contain malicious software designed to take control of your mobile device and compromise your personal information.

Pay attention to app statistics and user reviews. The number of app downloads, app ratings and reviews can give you an indication as to the authenticity of the app.

Enable security controls such as automatic software updates for your mobile devices and apps to fix security vulnerabilities. Set secure passwords and configure your privacy settings.

Read the app's terms and conditions of use and the privacy policy to see how the app will use your information. Be aware of any requests by the app to access your data, location, contacts, microphone or camera. Review what data is being collected, how it is being used and how it is stored. If you don't agree, uninstall the app or disable any information sharing capabilities with the app via your mobile devices.
If you have questions regarding a My Health Record app, please email: [email protected]
General advice about mobile apps and staying safe online is produced by Stay Smart Online and the Australian Cyber Security Centre.