Sydney North PHN facilitates a smooth transition to My Health Record
Published 12 February 2018
The thought of signing her pharmacy up to My Health Record was 'a bit daunting' for Berowra pharmacist Carrie Leung, but with assistance from the Sydney North Primary Healthcare Network (PHN) the process was completed smoothly and successfully.
I was surprised that many elderly people have a My Health Record and at the other end of the spectrum – the children.
We service a fair number of elderly people with dose administration aids and some of them go in and out of hospital quite often. Generally hospitals are quite good at letting us know they are going home, but knowing there is verified information we can get from the hospital is great.
My Health Record has the capacity for a hospital discharge summary to be uploaded to a patient's My Health Record when they are discharged from hospital. This can be viewed by the patient's GP or pharmacist. More than 1.5 million discharge summaries have been uploaded to My Health Record. At the moment not everyone has a My Health Record, so it is very early days. However, by the end of this year all Australians will have a My Health Record unless they decide not to have one.
I think once everyone has a My Health Record it will be a fantastic asset. I work at a pharmacy that is open on Sundays and public holidays and sometimes people from a different part of the state or from interstate come into the pharmacy because they have forgotten their medication. Their GP is unreachable on a Sunday. My Health Record is a very good tool for checking their medications.
It is definitely something that I can see has the potential to enhance continuity of care.
For example, if the patient is moving permanently from interstate or from a different part of Sydney, having a record of what medicines they were using included in their My Health Record makes their health records more portable. They are unlikely to see the same GP, so having that information at the start with a new GP is far better than having to go from memory – "I was on this , I was on that", just going by word.
I think everyone needs to get on board with My Health Record.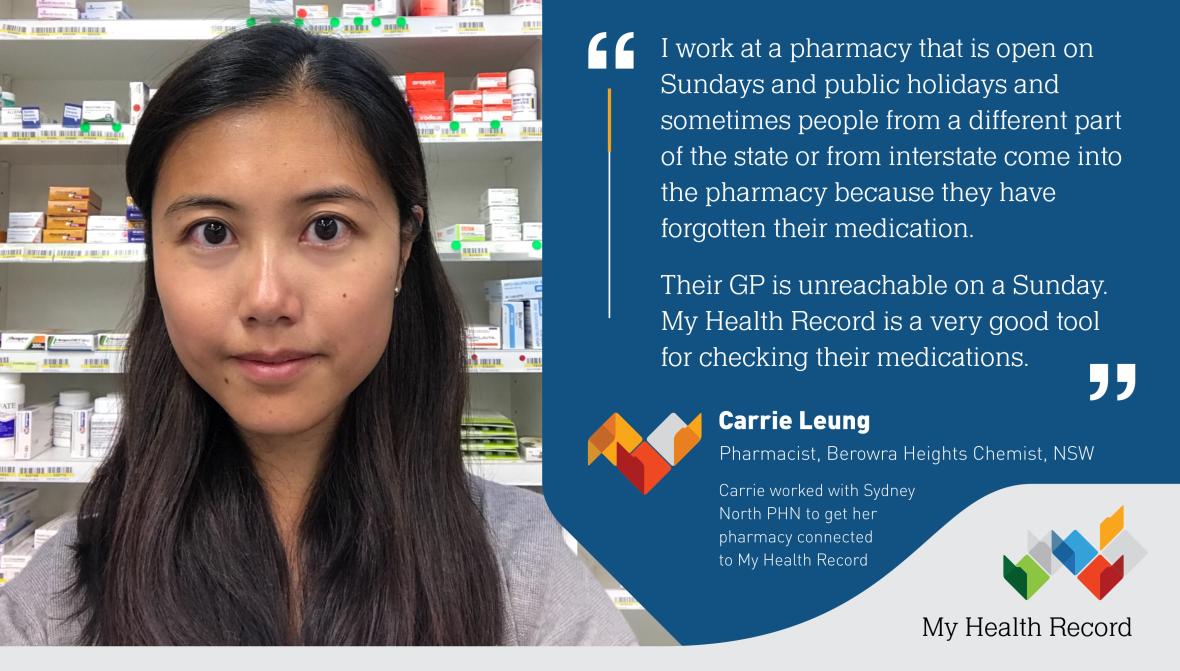 Support available from Primary Health Networks
Australia's 31 Primary Health Networks have been enlisted to support healthcare providers complete their registration with My Health Record. Staff from PHNs are available to visit onsite to work with staff to ensure the registration and connection process runs smoothly. Carrie took advantage of this service.
The PHN was fantastic, very impressive. They are always available if we have a question. They linked us up with the relevant people at our software provider as well.
I'm a pharmacist, not an IT person. It was a bit overwhelming at the beginning not knowing what needed to go where, but Sydney North PHN really helped us.
Getting the registration process right would probably be perceived as a major barrier to pharmacies signing up. The PHN guided us with the registration submission to get My Health Record set up.
The PHN already had established contacts with the software people and the whole process was very, very smooth. The pharmacy has been connected to My Health Record for more than six months now and is getting used to using it as part of daily practice.
Since Carrie's pharmacy connected to My Health Record, the registration process has been further streamlined.