The healthcare workforce of the future: a global perspective
Published 30 May 2019
Digital health technologies will play an important role in addressing projected global healthcare workforce shortages, KPMG's Mark Britnell tells us.
As populations age around the world, the percentage of active workers in each country is generally decreasing, while the chronic conditions associated with advanced age are increasing. These factors, among others, are leading labour market analysts to predict significant shortages in the supply of healthcare workers globally.1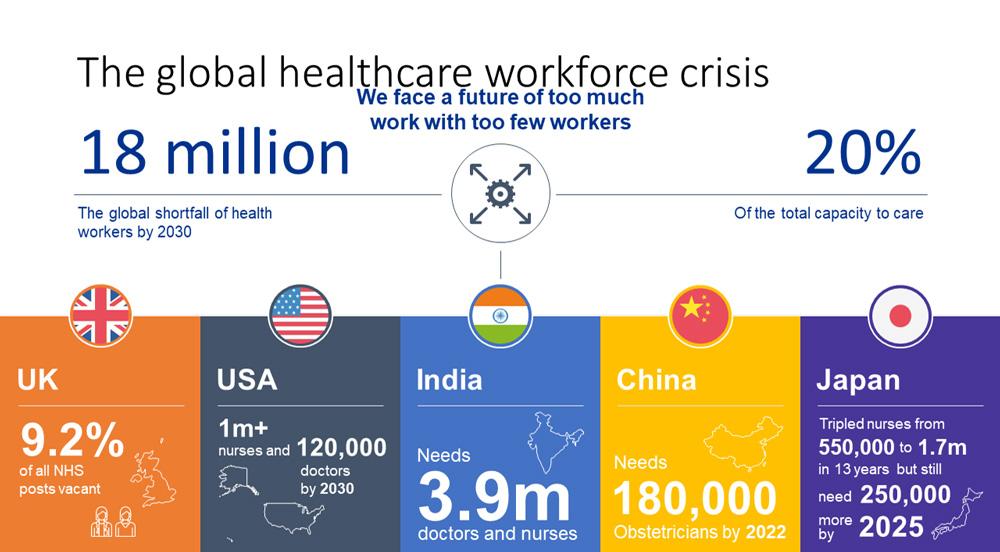 Shortfalls in the healthcare workforce are projected globally
These global considerations are directly relevant to Australia's healthcare system for two reasons. Firstly, immigration (both into and out of the country) inevitably factors into Australia's healthcare workforce planning. Secondly, and more importantly, we can learn from the experiences of other countries as they tackle these common issues.
Grand rounds with Mark Britnell
The Agency recently had the honour of hosting KPMG's Mark Britnell, as part of its "grand rounds" program. Mark is a distinguished expert in this area, who was able to share some of the insights drawn from his ten years' experience in this domain, during which time he has visited 77 countries on more than 330 occasions.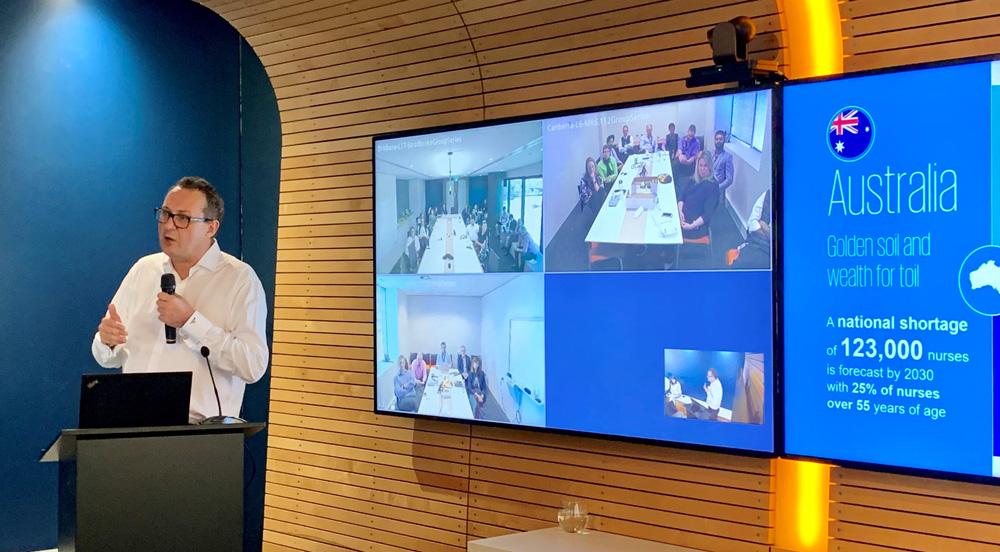 Mark Britnell describing Australia's predicted shortfall in nursing staff
The problem of building a healthcare workforce to meet the needs of the future is, in his view, a "wicked problem" that resists simple technical solutions. Despite this, he is optimistic that these future needs can be met by harnessing a number of interrelated dynamics in which digital health will play a prominent role.
The new dynamics in the future of healthcare
To meet the challenges of coming decades, we will need to lift both the productivity of the healthcare workforce as well as overall participation rates. Some of the trends that Mark recommends embracing include:
Viewing healthcare expenditure as an investment, not a cost. Health investments generate up to nine times their costs in terms of economic growth, through a number of different pathways. These pathways collectively lead to improved productivity, which in turn is a reliable predictor of economic performance.
New models of care can drive productivity gains of up to 20%. Virtual consultations, such as those pioneered by West Australia's Silver Chain healthcare, can supersede face-to-face consultation in many cases, especially where patients have difficulty travelling. The UK's National Health Service is investing strongly in AI, robotics, machine learning and block chain. Meanwhile, primary care in Israel stands out for its innovation and the benefits realised.
Increased patient engagement is yielding directly measurable improvements in hospital admission rates and cost per patient.
Supporting healthcare professionals to make the best use of their professional capacities, instead of wasting time in administrative or other tasks that do not make good use of their training and skills.
Automating healthcare tasks through computerised administration, AI-based interpretation of diagnostic scans, and so on. Up to 36% of healthcare work could be automated, Mark believes.
Digital health technologies play a central role in enabling many of these trends, and a supporting role in most others. Wicked problems, after all, are not susceptible to simple, "one size fits all" solutions, but digital health, in its many forms, can play a facilitating role in streamlining existing tasks and enabling entirely new capabilities.
Digital innovations around the world
Mark was quick to praise both Australia's health system, as well as our leading role in advancing digital health, and the My Health Record system in particular, saying:
"I cannot think of another country in the world of comparable size to Australia, that has achieved what you have achieved."
Other countries have had noteworthy successes in deploying innovative digital health solutions. Bangladesh and Mexico have each launched low-cost telephone-based healthcare advice services that are bringing new levels of care to populations that previously could not afford the costs. In Israel, a health service named Clalit is proactively managing population health by uploading individual clinical risk indicators on a daily basis, monitoring the data through AI algorithms, and then intervening early, before major symptoms flare up. A medical centre in New York's Bronx district is using remote patient monitoring to reduce hospital admissions for elderly patients by over 30%.
These are just some of the successful digital health innovations that Mark has personally witnessed, and there is no doubt that there is much more to come as countries around the world grapple with the challenges of their health systems in their own unique ways.
Mark Britnell is Global Chairman & Senior Partner of Healthcare, Government & Infrastructure at KPMG International. His new book, Human: Solving the Global Workforce Crisis in Healthcare, is available from Oxford University Press. All royalties from the book go to research into prostate cancer.
---
For example, Liu et al, 2017, Global Health Workforce Labor Market Projections for 2030. https://doi.org/10.1186/s12960-017-0187-2  ↩