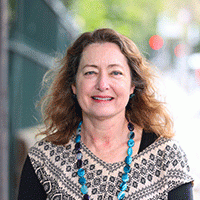 Prof Charlotte Hespe
MBBS (Hons), DCH (Lon), FRACGP, FAICD, GCUT (UNDA)
Professor Charlotte Hespe is the Head of General Practice and Primary Care Research for the Sydney School of Medicine. This role is a dual Teaching and Research role, with her Heading up the Discipline of General Practice and being responsible for establishing and overseeing a research network specialising in General Practice specific projects in primary care.
She is also an active GP Clinician and Practice Owner of a medium-sized general practice consisting of 17 Dr (8 FTE) / 3 Practice nurses/ 3 PT Allied health practitioners in Inner City Sydney (Glebe Family Medical Practice, GFMP). The practice is fully accredited and serves as a teaching Practice for both UNDA Medical students and GP Registrars for the RACGP training program. Her clinic is a leading general practice in Central and Eastern Sydney PHN and won RACGP Practice of the Year, NSW/ACT in 2018. Prof Hespe is passionate about improving health outcomes for the patient in her personal care and within the broader Australian Community. To this end, she has been actively involved with the RACGP, GP Networks, Medical Education (through undergraduate, postgraduate and Registrar student teaching) and GP research throughout her career. She recently completed a PhD on the topic of "Implementing quality improvement strategies in real-world general practice- a study focused on cardiovascular disease" and is passionate about improving the delivery of patient centred primary healthcare, which includes improving access and utilization of digital health tools.
She also has extensive experience and expertise in corporate Governance (within the public health arena), currently holding a FAICD qualification, with 21 years of experience as a Board Chair.  
External to her University appointment, Prof Hespe is Chair of RACGP NSW/ACT Faculty Council, Director of RACGP Board and Chair of RACGP Board People Culture Nomination Remuneration committee.