Better data and a bigger workforce: In conversation with Professor Louisa Jorm
Published 20 June 2018
Professor Louisa Jorm is the Foundation Director of the Centre for Big Data Research in Health at UNSW. She is an Australian leader in policy-relevant research using linked administrative health data, including hospital inpatient, mortality and Medicare data, and is a high-profile advocate for more and better use of routinely collected health data for research. We spoke to Professor Jorm recently to talk through the potential of big data in health care and how we can ensure we have the technical expertise within the Australian health care sector into the future.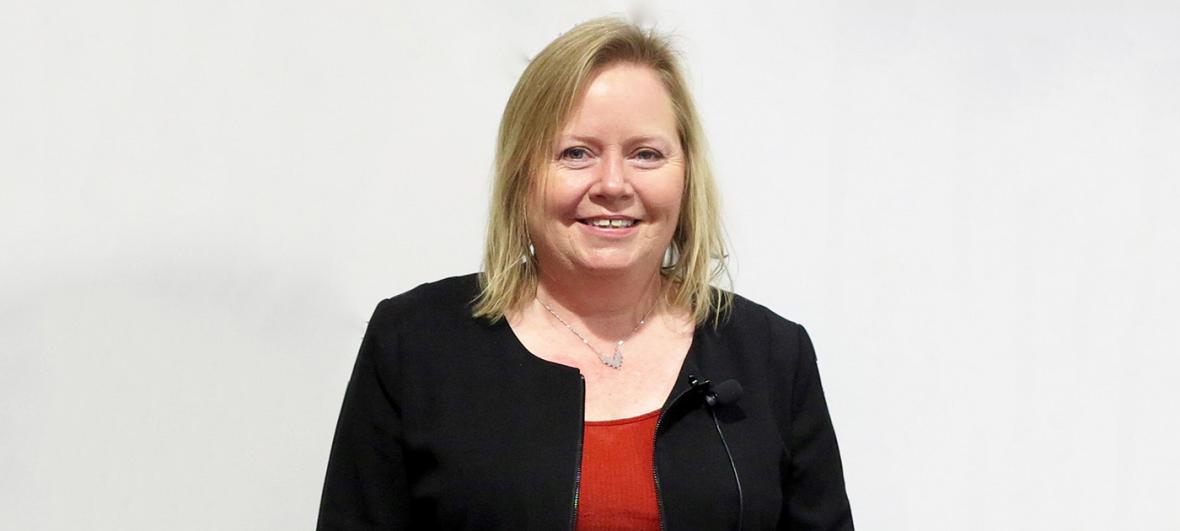 Professor Louisa Jorm, Foundation Director of the Centre for Big Data Research in Health at UNSW
"Big data" is a simple name for a complex idea. When does data become "big"? Could you tell us about the difference between normal data and big data and how it relates to health care?
This is a question that everyone asks. It's centred around the "three V's" – Volume, Variety and Velocity (that is, data that comes at you very quickly). Some say that there are more than three V's, but let's put that aside for now.
The three V's apply to a lot of health care data, like the ones the Agency works with. In terms of volume the really big data sets, like the ones generated through medical imaging and genomics, can be very large. But a lot of the health data that we use is really characterised by its variety because it's drawn from a whole lot of different and very disparate systems. Some of it is nice structured data, but quite a lot of it is just notes and free text written by clinicians, which poses several challenges in terms of how you get intelligence out of that data. And it also has velocity because the health system in Australia generates massive amounts of data from every contact that a patient has with various components of the system.
It sounds like the variety is where the real conceptual challenge is. Volume and velocity seem to be mostly technical, if I can put it that way.
That's correct. The real challenge in many ways, that sets health apart from other areas of industry, is its incredible variety. Currently in Australia there is a lot of interest in how we can make better use of electronic medical record data, which are generated by systems that were very much set up with a focus on supporting patient care. They were often set up in a piecemeal sort of way with multiple different data tables and legacy systems in place. So there's a lot of wrangling involved to get the sort of data we need for analysis and research.
In many ways just getting your hands on the data and doing the wrangling is 80 per cent of the work for a lot of the research that we do.
The most obvious health applications of big data are probably public health and epidemiology. I'm sure you can tell us about several others …
Real time analytics to inform patient care is one of the hot areas in data science in health at the moment and it has a direct impact on the care of patients.
Machine learning systems that sit in the backend of clinical information systems can bring together the data and experience of millions of patients, which in turn can inform decision support at the point of care. These approaches can transform care and inform personalised care based on what the predicted outcomes might be from that data.
Another area that's burgeoning in Australia is the use of claims data for things like post-market surveillance of medications. The purpose of this is to track the usage of medications to ensure that their real world use doesn't throw up any adverse outcomes that weren't predicted in clinical trials.
Yet another application is image analysis, again using machine learning techniques, which aids the job of diagnostics for radiologists and pathologists. These types of professions can use machines for the initial automatic scanning of images and then they can identify the ones that require further investigation. It's going to revolutionise the health workforce.
Indeed. And as you've just touched on, one of the challenges in big data and digital health in general is gathering the technical expertise needed to use it. What is in the pipeline to ensure our workforce is set up for it?
Something we're currently doing is setting up the first post-graduate training program in health data science in Australia. We have a Master of Health Data Science and we also have a range of online continuing professional development courses in data science, and these are the only ones in Australia.
What we've heard from people who are working in hospitals, health systems and primary health networks, is that they are very aware that they have useful data but they really lack a skilled workforce.
There is a huge demand for people who have data science skills but what we have found in health is that people who have just come straight out of a computer science or maths background, actually really struggle quite a lot in the health context. They don't have an understanding of the clinical content, the health system setting, what questions are important, how to communicate and the sorts of pressures that clinicians are under. But in particular, the communication and the understanding of the health setting is often a big issue.
Based on those conversations we've developed the Masters program very much around two streams of students. One being the computer science type students, to bring them up to speed with the health context and the particular methods that are being applied in health.
The other stream – and most of the current cohort of students falls into this group of students – is for health professionals of various types who are working in the health system doing data science or data analysis type roles but in many cases with very little formal training in those areas. It's been a bit of a problem that there is virtually no quantitative or programming component to most health professional qualifications at the moment.
There is definitely a market of people out there who see the potential in data health science and want to get those quantitative skills.
So that's the present. What excites you about the future of digital health?
I'm really excited that My Health Record is going to transition to an opt-out model. Obviously it's going to take a bit of time before it reaches optimal use but I think we're going to be one of the leading countries internationally in terms of our personally-controlled health record.
I've just come back from the United States and while they have great data, it's been integrated in vertical silos. In Australia we will have complete population-based information and as a researcher it's very exciting to think about the potential of that data.
The My Health Record system will finally bring together all of the different silos – public, private, primary care, general practice and more – in one place. It's going to be a lot of work – which relates to the issue about variety that we were talking about earlier – to wrangle the data into forms that are going to be the most informative – but it's a great opportunity and I'm really looking forward to it.