Update to the My Health Record statistics
Published 20 December 2019
The Agency has published updated statistics showing more detailed activity on My Health Record. Here are the highlights.
Pharmacies are currently the biggest contributors to the system, uploading over 4 million documents every month with GPs also adding between 2 and 3 million documents every month.
There has been a 140% growth of healthcare providers sharing and collaborating on patient information, with both viewing and uploading information close to equal.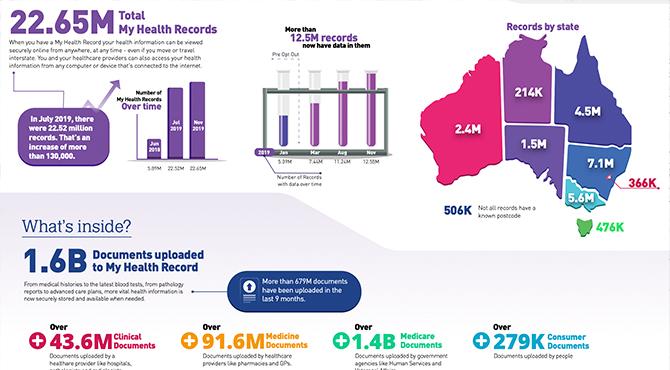 My Health Record statistics and insights
GPs are the highest users of the system, accessing documents uploaded by other GPs and healthcare providers to inform their clinical decision-making.
The number of My Health Records containing Medicare, clinical or medicine documents has more than doubled since January (5.39 million), now more than 12.5 million have documents in them - typically following an interaction with a healthcare provider.
Over 1.6 billion documents have been uploaded to My Health Record, including over 40 million clinical documents and 90 million medicine documents. More than 679 million of these have been uploaded in the last nine months alone.
Around 90% of public hospital beds, general practices and pharmacies are now registered to use My Health Record, with around 70 per cent uploading or viewing documents.
There are also over 6 million records with immunisation information and more than 1.2 million records with organ donor register information.
The My Health Record statistics and insights will be published on the My Health Record website on a regular basis to provide ongoing information into how the system is being used by consumers and healthcare providers to complement clinical decision-making and ultimately improve health outcomes for all Australians.