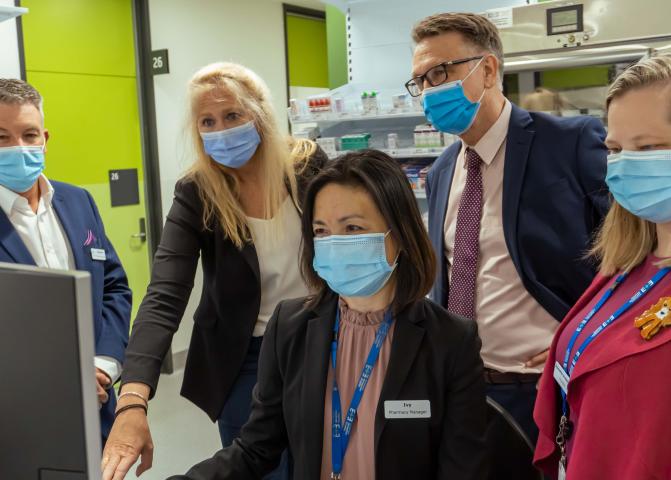 The Royal Victorian Eye and Ear Hospital leads efforts to reduce medicine related mishaps
Published 7 March 2022
The Royal Victorian Eye and Ear Hospital leads efforts to reduce medicine related mishaps
The Royal Victorian Eye and Ear Hospital (Eye and Ear) is the first hospital in Australia to implement the Pharmacist Shared Medicines List (PSML) medicine safety initiative.
PSML is a clinical document produced only by pharmacists and uploaded to My Health Record. It is a consolidated list that includes information about prescription and non-prescription medicines such as over-the-counter and complementary medicines, including vitamins and herbal remedies. It also includes the health practitioner's reasons for prescribing each medicine and how and when patients should take them.
The PSML helps patients and healthcare providers manage medicines safely throughout a patient's healthcare journey, including when they are discharged from hospital and go home or into a residential aged care facility.
When this information is available in My Health Record it can help patients and healthcare providers avoid medicine-related mishaps and ensure continuity of care. According to Australian research by the Quality Use of Medicines and Pharmacy Research Centre, UniSA, an estimated 250,000 hospital admissions are medicine-related and two-thirds are potentially preventable.
The Australian Digital Health Agency (Agency) and the Victorian Department of Health have worked closely with The Royal Victorian Eye and Ear Hospital in East Melbourne to deliver PSML at the hospital.
Director of Pharmacy at Eye and Ear, Catherine Rokahr, explained that pharmacists highlight changes to a patient's regular medicines made during a hospital stay.
"This is detailed in the discharge medicines' list uploaded to My Health Record which becomes part of the PSML and shows GPs and community pharmacists any medicines that have been stopped, directions and doses that have changed, new prescriptions, and the reasons for each medicine use and medication changes," she said.
Jeanette Anderson, the Director of Digital Health at Eye and Ear added "PSML is part of the hospital's commitment to an outstanding patient experience and there is real interest in adopting this medicine safety initiative across the state's health system".
Agency CEO, Amanda Cattermole, said "The Victorian Department of Health and the Royal Victorian Eye and Ear Hospital are to be commended for their support for the Pharmacist Shared Medicines List initiative."
"Now this Victorian hospital has led the way in implementing this initiative, the Agency and the Department are working to extend PSML to other health services in Victoria."

Chief Digital Health Officer at the Victorian Department of Health, Neville Board, said Victoria's digital health roadmap centred on the secure sharing of critical health information between clinical settings, making each patient's care journey safer.
"I thank all the staff at the Eye and Ear for taking the lead and getting essential patient medicines information into My Health Record" Mr Board said.
Background on the Pharmacist Shared Medicines List
A Pharmacist Shared Medicines List (PSML) contains information about the medicines a patient was known to be taking at the time the list was created.
The list includes medicines that have been prescribed to the patient by their doctors and other non-prescription medicines that they may be taking (such as paracetamol) and other known over the-counter medicines.
A Pharmacist Shared Medicines List could be created by:
a pharmacist after completing an in-pharmacy medicine review
a pharmacist in preparing a dose administration aid 
a hospital pharmacy for patients when they are discharged.
A Pharmacist Shared Medicines List can benefit patients with a complex condition or chronic disease and who are taking multiple medications.
Media contact
Mobile: 0428 772 421
Email: [email protected] 
About the Australian Digital Health Agency
When it comes to improving the health of all Australians, the role of digital innovation and connection is a vital part of a modern, accessible healthcare system. Against the backdrop of COVID-19, digital health has seen exponential growth in relevance and importance, making it more pertinent than ever for all Australians and healthcare providers.
Better patient healthcare and health outcomes are possible when you have a health infrastructure that can be safely accessed, easily used and responsibly shared.
To achieve this, the National Digital Health Strategy is establishing the foundations for a sustainable health system that constantly improves. It underpins and coordinates work that is already happening between governments, healthcare providers, consumers, innovators and the technology industry.
For further information: www.digitalhealth.gov.au.
The Australian Digital Health Agency is a statutory authority in the form of a corporate Commonwealth entity.