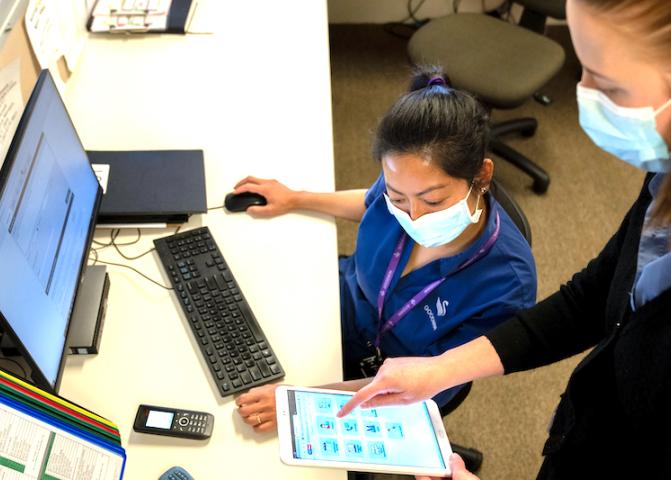 Interoperability and digital health standards
A better connected healthcare system for all Australians.
What is interoperability?
At its simplest, interoperability is the ability to move information easily between people, organisations, and systems. It enables a connected healthcare system that shares health information securely, safely and without any special effort from the people and organisations involved. 
There are three layers where interoperability should be considered: external to an organisation, internal to an organisation and at the point of care.
Why is it needed?
Across a whole-of-life healthcare journey, multiple and different healthcare providers will interact with a patient at different times. Interoperability will allow healthcare providers to have access to the right information at the right time to support them in providing high quality and safe care. At the same time, individuals will be confident that their data is secure and that they have access and control over their information. 
Digital health standards
To seamlessly exchange or access health information and ensure consistent understanding, it is essential to have agreed digital health standards, specifications and terminology that are technology agnostic. Find out more.
Benefits
A better connected healthcare system can benefit everyone.
Individuals

Connected care benefits individuals by enabling them to easily access their secure information, control who can access that information, and improve their health outcomes and experience of care.
Healthcare providers

Connected care benefits healthcare providers by providing them with timely access to the permitted information they need, in a format that allows them to effectively improve clinical decision-making and care.
Healthcare provider organisations

Connected care benefits healthcare provider organisations by enabling them to safely share information across the entire healthcare system, to support best-practice processes and new digital models of care.
Researchers and planners

Connected care benefits researchers and planners by providing permitted access to more comprehensive data to identify better clinical practices and implement health service improvements.
Funders and regulators

Connected care benefits funders and regulators by providing better and more timely information to inform policy, funding and regulatory decisions that support value-based care and best-practice regulation.
National Healthcare Interoperability Plan 
The Connecting Australian Healthcare – National Healthcare Interoperability Plan 2023-2028 outlines a national vision to share consumer health information in a safe, secure and seamless manner and identifies 44 actions across five priority areas relating to identity, standards, information sharing, innovation and measuring benefits.
The Council for Connected Care has been established to oversee the implementation of the Plan including monitoring and reporting on progress against actions in the Plan.