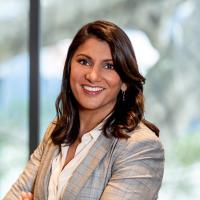 Dr Amandeep Hansra
GP and Digital Health Consultant
BMed (Hons), FRACGP FACHI ACCAM MPH&TM Global EMBA GAICD CHIA
Dr Amandeep Hansra is a leader in digital health and innovation in Australia. She is a GP with 17 years' clinical experience but is also known for her work as a digital health consultant. Amandeep co-founded Caligo Health providing consulting services to state and commonwealth government, hospital groups, insurers, start-ups, health services, investors and businesses. She has been a Clinical Reference Lead with the Australian Digital Health Agency for four years. 
Amandeep was the CEO & Medical Director of Telstra's telemedicine business ReadyCare; a joint venture between Telstra and Medgate, (Switzerland's leading telemedicine provider), until the end of 2017. She also served as the Chief Medical Officer for Telstra Health and separately has assisted Medgate in setting up a telemedicine business in the Philippines. She is a locally trained specialist General Practitioner who has worked nationally in rural, remote and urban regions, as well as overseas. She continues to work in clinical medicine at a General Practice in Bondi, Sydney. 
Amandeep has a passion for medical start-ups and entrepreneurship, providing advisory services for start-ups in the health technology space. She has been awarded the "Women Leading in Business Scholarship" for the Global Executive MBA at the University of Sydney and more recently was named an award recipient of Telstra Health's 2021 Brilliant Women in Digital Health initiative.
Amandeep is the founder of Creative Careers in Medicine, an organisation with more than 13,000 doctor members. The organisation supports doctors with navigating their career options and assists in upskilling and preparing them for their future. 
Amandeep's past career has included public, volunteer and private work in primary care and in hospitals, as well as in Aboriginal and Torres Strait Islander Health, Homeless Health, Refugee Health, Occupational Medicine and Travel Medicine. She is a Fellow of the RACGP & Australian Institute of Digital Health, an examiner for the College and sits on their Practice Management and Technology Expert Committee, as well as the Australian Medical Association (AMA) NSW Council. 
She is a Board Director of AMA NSW, NPS MedicineWise, MoleMap Au/NZ, ACHS International and Chairperson of Coviu Global. 
Amandeep holds a Masters in Public Health and Tropical Medicine, a Global Executive MBA from The University of Sydney, the Australia Certificate in Civil Aviation Medicine, is a Certified Health Informatician of Australia and has completed the Company Directors Course through the Australian Institute of Company Directors. 
Amandeep is based in Sydney where she lives with her family including two teenage children. She is passionate about digital health and innovation in healthcare but balances this with her other passions of family, the great outdoors and travel. 
Download Dr Amandeep Hansra media bio (PDF, 149.48 KB)
Download an approved media image of Dr Amandeep Hansra
Get in touch
Please contact us at any time to arrange news grabs or an extended interview with Dr Amandeep Hansra. Mobile: 0428 772 421 or [email protected]