Provider Connect Australia (PCA) is a service operated by the Australian Digital Health Agency. It allows healthcare provider organisations to connect with their business partners to streamline updates about the services they provide and the practitioners that provide them.
This significantly reduces the time that healthcare provider organisations spend updating their business partners, ensures that updates are not missed, and reduces the transcription errors that occur with manual updates.
PCA also creates unique identifiers that identify healthcare services, service delivery locations and practitioners' service delivery roles, to allow them to be reliably identified and linked across the healthcare system.
These unique identifiers complement existing national identifiers for healthcare provider organisations and individuals.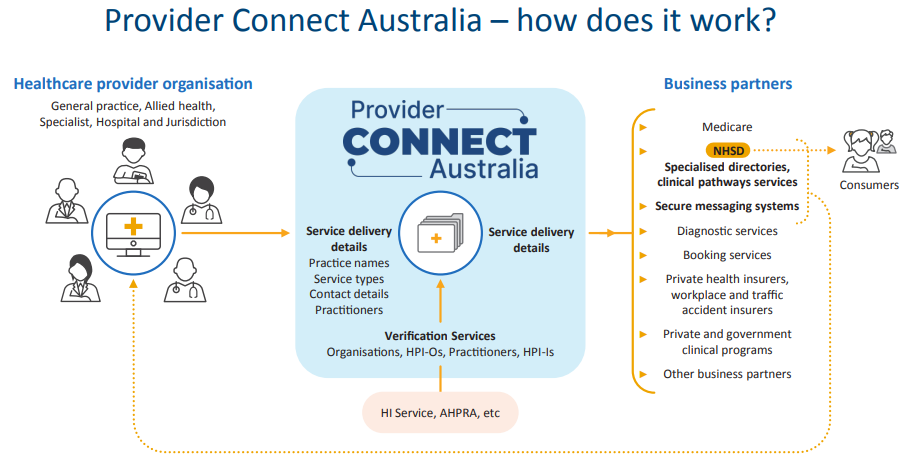 For more information about PCA, visit the Provider Connect Australia website.
Purpose
The purpose of this document is to detail the prerequisites and key functions for business partner users of the PCA portal, to enable registration of your organisation and associated partner services.
Business partners using Provider Connect Australia can streamline their client registration process and reduce or eliminate the potential for errors from manually transcribing information.
Prior to Registration
Prior to registering your organisation and partner services with PCA:
you must have a PRODA account
have the authority to act on behalf of the organisation you intend to register
have a completed business partner participation agreement countersigned by the Australian Digital Health Agency and have scanned it to PDF
have completed a HPI-I Collection Declaration Form and have scanned it to PDF (only if your organisation intends to use HPI-I numbers to communicate health information or support the communication of health information that is published to your organisation).
Get your PRODA Account
PRODA is an online portal hosted by Services Australia and is used by healthcare provider individuals to securely access a range of online healthcare services. A PRODA account can be created here: https://proda.humanservices.gov.au/pia/pages/public/registration/account/createAccount.jsf.
Obtaining a PRODA account requires an Evidence of Identity (EOI) process which requires you to provide three different types of identity documents (e.g. passport, drivers licence, Medicare card).
Note: you may already have a PRODA account for HPOS and other related services.
How do I start using the PCA Portal?
From the PCA portal homepage, you will be directed to the PRODA log in page. Log in to PRODA
Register your business partner organisation and upload your copy of the countersigned PDF participation agreement
Add your partner services
Continue to next step: